In Reference to FPB 83 Wind Horse:
"The 83ft-long (25m) wave-piercer…could easily be mistaken for the spawn of the Royal Navy with its unpainted battleship grey, all-aluminum body. But that day, in those conditions, it was the only boat that I would have wanted to climb aboard to face the English Channel."
—Motor Boat & Yachting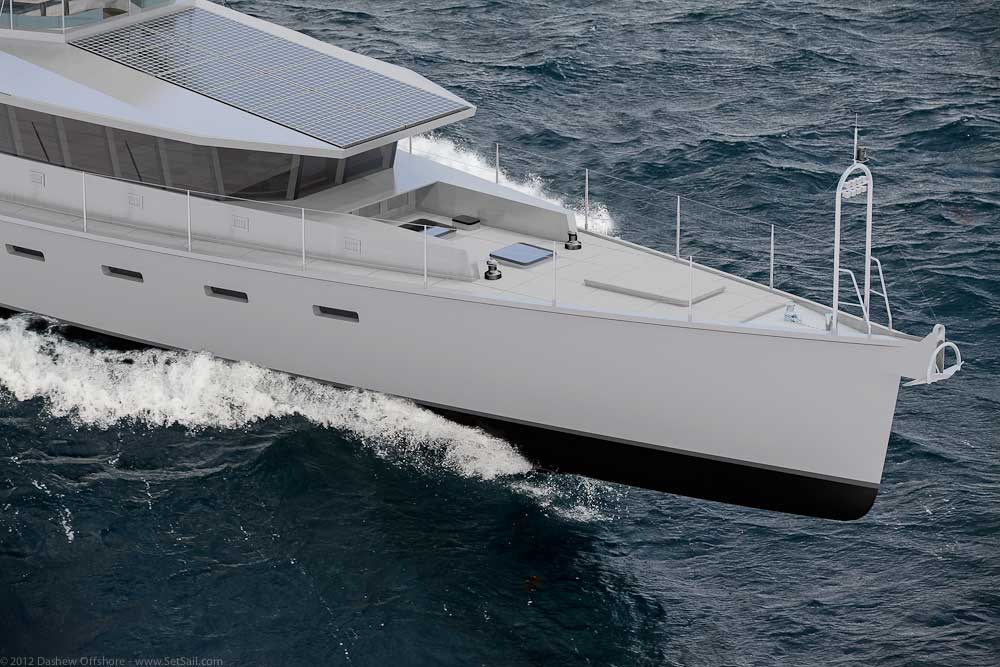 Slicing through the barriers of what can and cannot be done with a large yacht, the Wicked FPB 97 redefines the cruising paradigm.
Generator-free at anchor
Crew optional voyaging
5000+ NM range at 11.7 knots
Extreme weather survival capability, including capsize recovery
Unprecedented interior design
Five foot draft, and the ability to dry out on tidal rivers
Toughest structure ever offered in a series built yacht
Designed and constructed for minimum maintenance
The first FPB 97 is well into its construction cycle, and will be sea trialling in the fourth quarter of 2014. In the interim, we've put together a detailed look at the thinking behind this Wicked new FPB. For up to date exterior renderings, click here. For the latest construction update, click here.
If you could create the ultimate yacht for long distance voyaging, one suited to those wonderful cruising destinations like Tierra Del Fuego and French Polynesia, or experience the Arctic wonders at 79 degrees North in Svalbard, and do it comfortably in secure surroundings with minimum hassle, what would this entail?
Heavy weather capability, including the ability to self-right from a capsize
Strength to deal with the inevitable mistakes that occur
Speed to keep you out of harm's way weather-wise, and to shorten passage time
Physical and emotional comfort on passage so that voyaging is a pleasure, rather than something to be endured
Efficient systems, installed for ease of access and maintenance in primitive environments
Shallow draft and the ability to dry out on tidal rivers or grids
Minimal carbon footprint
Massive storage space for spares, emergency gear, supplies, so that operation for long periods of time away from the first world supply chain does not entail hardship
Living space that is open visually, but still works well at sea
Dinghy storage, launching, and retrieval system that is 100% reliable, and usable in a rolling anchorage
Operation and maintenance engineered so a couple can, if they so choose, operate on their own without crew
Sound like the perfect yacht? For the past 35 years we've been building to precisely these parameters. Our Deerfoot, Sundeer, and Beowulf series of sailing yachts are known the world over as the best yachts for couples intending to circumnavigate. The FPB series of ocean-crossing motor yachts have moved the goal posts even further.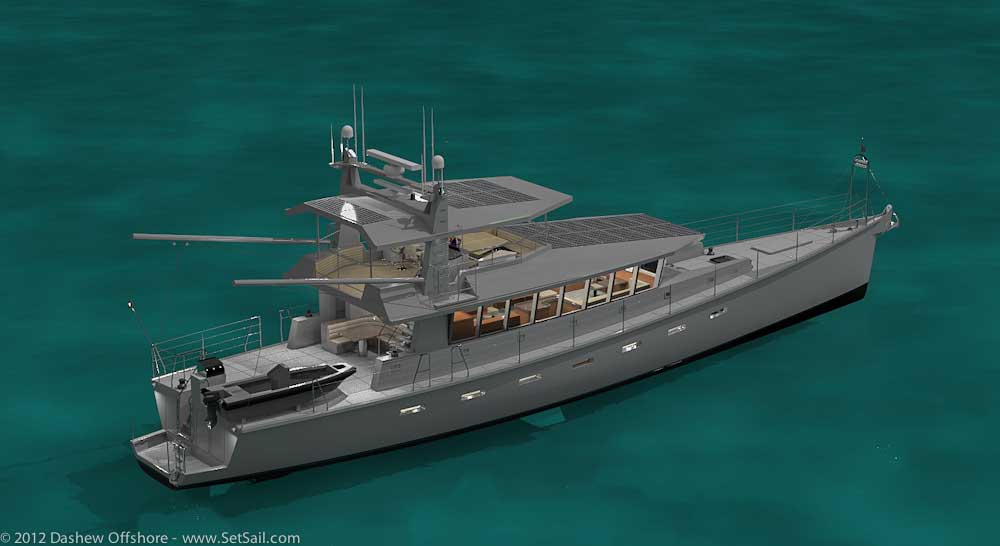 The Wicked FPB 97 represents the apogee of this cycle. Simply put, it is the most comfortable, secure, and efficient yacht that has ever been created for long distance voyaging, and she gives her owners the option of cruising with or without crew.
This introduction is intended as an outline for understanding both the Wicked FPB 97 in particular and our approach to yacht design in general. Each section contains a sidebar with links to articles, slide shows, and videos pertinent to that topic.
Able to withstand extreme conditions, with self-righting capability, it has the toughest structure ever offered in a series-built yacht."
-Boat International
For an in-depth look at the Black Swan theory of yacht design and construction click here.
Detailed post about safety factors here.
Black Swan Philosophy
A few words are in order about the Black Swan approach to yacht design and construction. The Black Swan theory is the concept of a one-time Wall Street floor trader, Nassim Nicolas Taleb, to explain hard-to-predict but inevitable events that occur in the world of finance, that have devastating consequences. The specifics are generally not knowable in advance. But what can be foreseen, with a high degree of certainty, is that something is going to occur for which the establishment has not prepared.
We go cruising to relax, with perhaps a controllable dose of adventure. The normal risk factors are not great, and can be dealt with by a well-schooled crew with a seaworthy yacht. But what about Black Swan events? Although it is human nature to ignore the possibility of disaster, we believe it is better to be prepared for a Black Swan scenario, and then go cruising secure in the knowledge that we are on a yacht constructed to handle the very worst.
Interior Design Principles and the FPB 97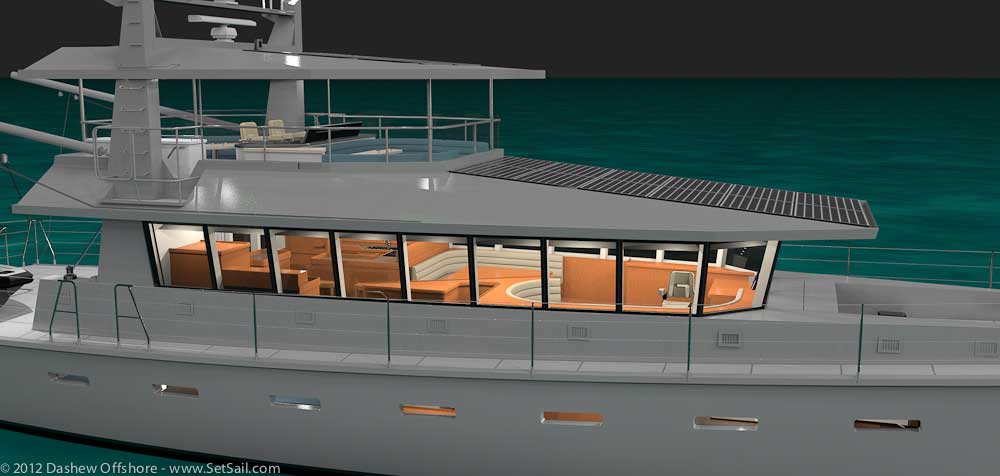 "…The concept deserves consideration from anyone who wants to cruise offshore over long distances."
–Yachting Magazine
The FPB 97 combines a Great Room where you can live while running the vessel, the unique Matrix Deck which is a combination of penthouse and flying bridge, and a wonderful owners' suite on the Accomodations Deck that is full width and 7.7m/25 ft long, in an interior that makes passages as inviting as sitting at anchor. The three interior decks are all positioned well aft, in the region of minimized motion, for the most comfortable sea-going experience.
There are a number of interior design principles at work throughout the FPB 97 that are key to successful cruising:
Visually open spaces–360 degree views in the case of the Matrix Deck and Great Room–that have wonderful natural lighting
Furniture designed to minimize visual obstructions, enhance communications, and at the same time hold you in place at sea
Removable staple rails and furniture level hand rails to further enhance security at sea
Large volumes of storage space for everyday use with drawers and shelves, plus significant bulk storage provisions
The Matrix Deck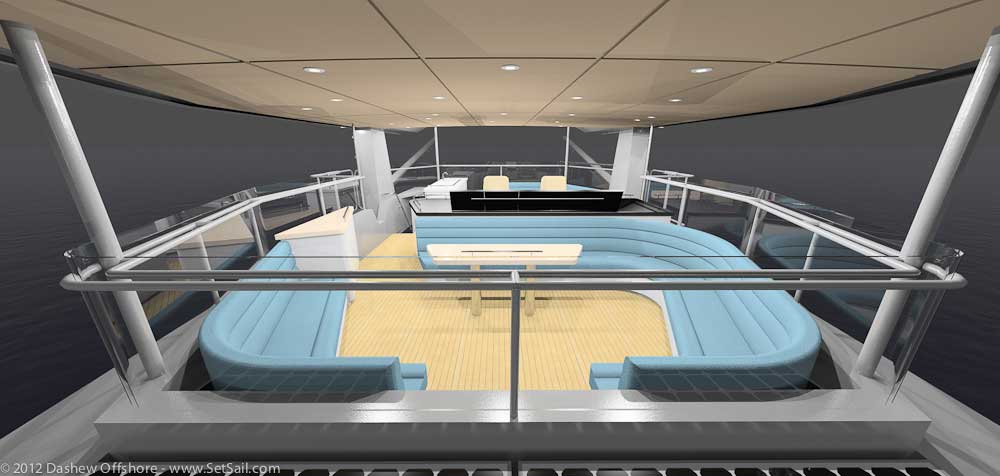 A major design innovation is revealed in the Matrix Deck, a seagoing union of fly bridge and penthouse. 360-degree views are combined with a layout that works equally well for watch keeping, lounging, or entertaining, within a space that can be both open to the outside or enclosed, heated, or air-conditioned. At sea, the lines of sight are excellent through 90% of your potential view field, and by moving a few feet you cover the other 10%. You are positioned in the zone of maximum comfort for head seas. When conning in difficult circumstances, you not only have good sight lines, but with some or all of the windows open you are in touch with the surroundings in a manner that cannot be duplicated inside. Couple this high degree of function with the ambiance of a lovely salon, or tropical lanai, and you have the truly unique experience that is the Matrix Deck. To get a feel for its scale, take a look at the Great Room of the FPB 83, Wind Horse – the Matrix Deck is larger.
The Great Room

The now-familiar battle-worthy look of the FPB yachts hides a beautifully crafted interior from the outside world. The Great Room concept has been a key ingredient of the FPB concept since the beginning. A combination of work, living, and watch standing center, the Great Room is one of the design features which makes short-handed cruising on the FPB 97 so enjoyable. These attributes pay dividends at anchor too. Regardless of what you are doing–preparing a meal, working at your desk on a web post, or relaxing with a book–everyone has the same wonderful views.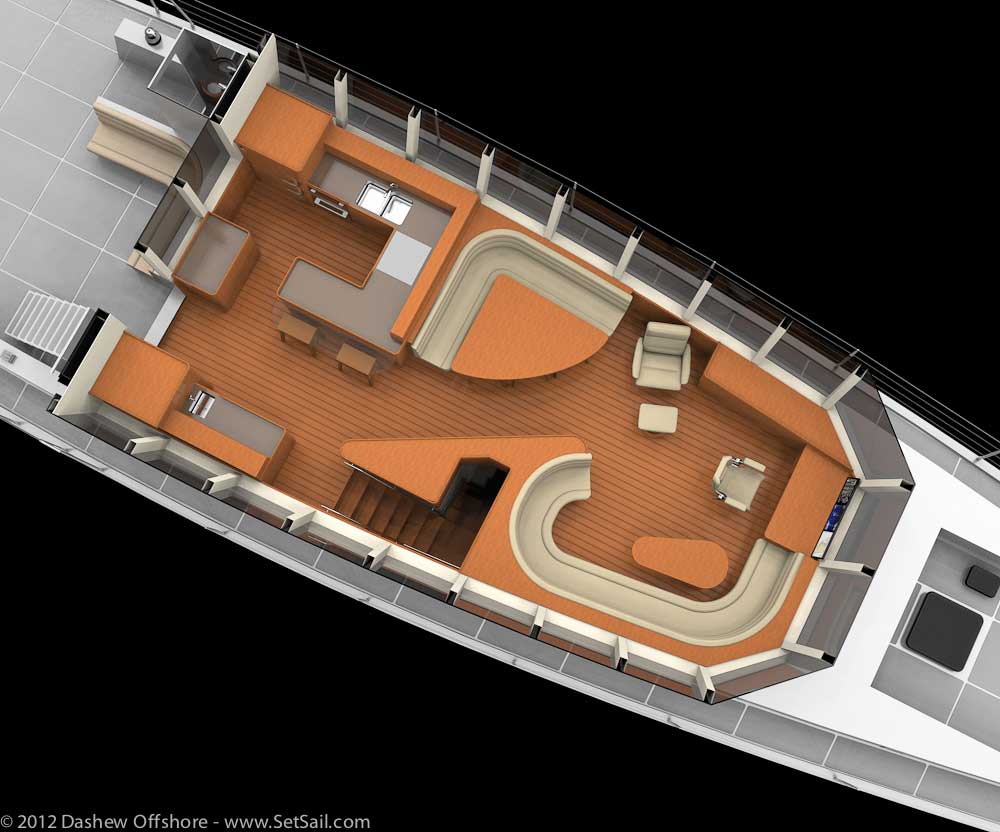 When standing watch on passage, you can see behind as well as ahead of you. And when the time comes for a meal or a snack, you maintain situational awareness. Standing in the galley you can see forward, abeam, and aft.
And if too much togetherness is not a benefit, then some of the crew can retire to the Matrix Deck, where the views are even more stunning.
Accomodations Deck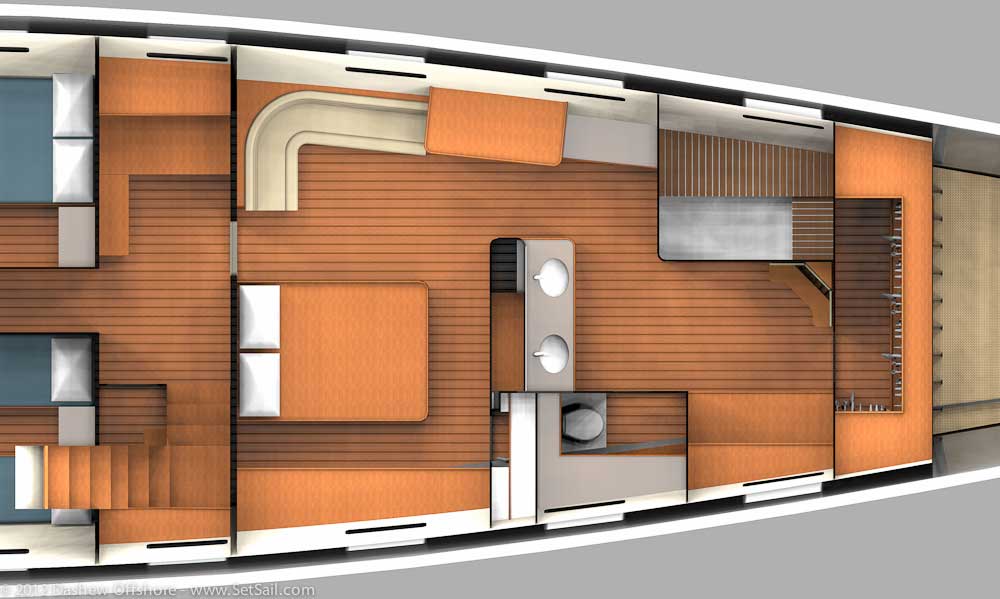 If you think the Matrix Deck and Great Room are cool, wait till you see the owners' suite on the Accomodations Deck. Encompassing 25% of the hull's length (7.7m/25 ft long) and spanning the full beam, the suite is positioned well aft for minimal motion. The head of the king sized walk-around bed is directly on the longitudinal center of the waterline. There are four large hull windows and several deck hatches that bring in copious amounts of natural light. Open-air ventilation from four silently powered vents keeps the air fresh and relatively cool until the point where air conditioning is warranted.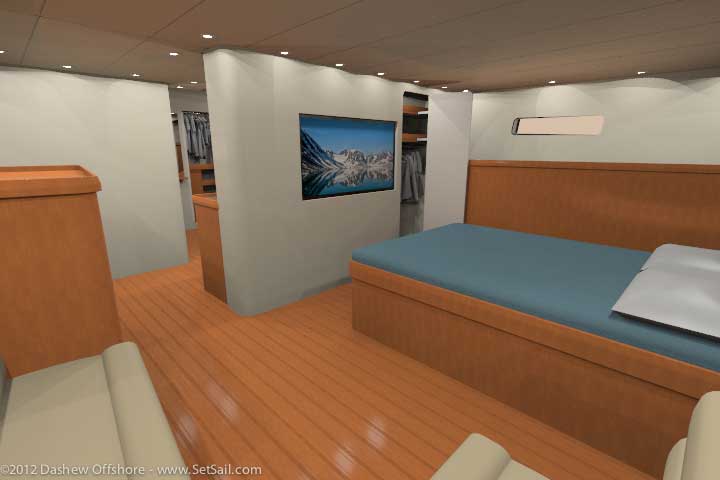 There is a full width walk-in closet, a large sofa, combination sauna/bath, and of course a TV which, when not in use, is hidden by a panel that can have a piece of art affixed.
All of this takes place within an open floor plan that has a lovely sense of spaciousness. With the engine room a full 25 feet/7.7 meters away and separated by two massive bulkheads, you know the only sound you will ever hear underway is the sea softly passing down the hull.
The foyer off the stairwell is an ideal location for an office, with desk space for a pair of large monitors, storage space and ship's library.
The guest accomodations have generous heads attached ,each with a shower/bath, desk, and substantial storage.
The systems room, all the way aft, provides excellent storage, a pair of bunks for crew or overflow guests, with a wet head en suite. This area acts as a sound buffer, and what little machinery noise escapes the engine room will be substantially attenuated before it gets through the two sets of bulkheads between here and the guest sleeping cabins.
Heavy Weather Capability
The recent capsize of the 60-meter yacht Yogi, in moderate gale conditions, has focused attention on the vulnerability of yachts that conform to the MCA Ly2 stability specifications. With a limit of positive stability at between 55 and 70 degrees, if they meet the wrong wave at the wrong time, or are disabled and lying abeam of the seas, the risk of permanent capsize is significant. Most smaller yachts do not even meet the MCA stability code requirements.
The FPBs are all self-righting, the only ocean-voyaging yachts with this capability.
Several characteristics of the FPBs make it unlikely that owners will ever put their stability curve to the ultimate test. First, they are able to maintain a fast average ocean crossing speed: in the case of the FPB 97, 11.7 to 12 knots. High average speeds mean shorter passage times and reduced weather risk. The FPBs also offer a more comfortable ride at higher speeds, which means their owners pay no penalties for arriving sooner, other than a modest increase in fuel burn.
FPB steering control, even surfing downwind in big seas, makes it possible to run off ahead of dangerous storm systems. And when caught on the beam by a breaking sea, FPBs skid sideways, dissipating the force of the wave before it can deliver a significant blow.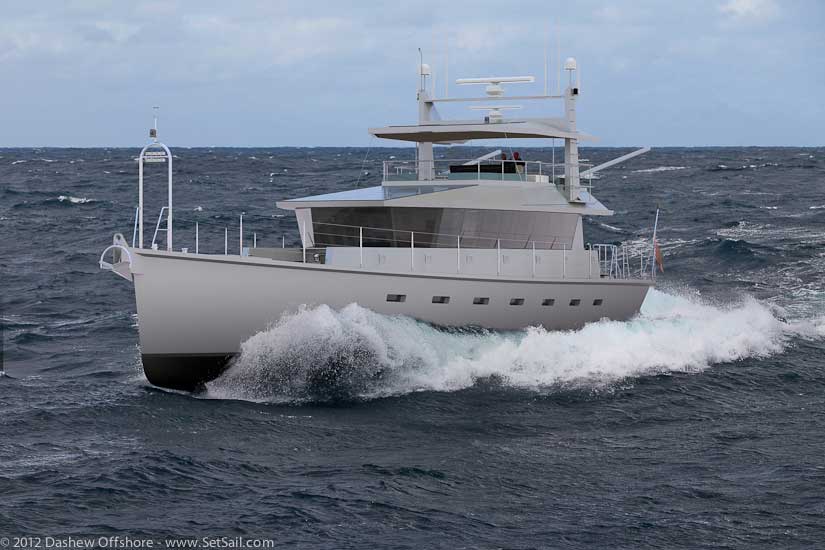 FPB Structural Basics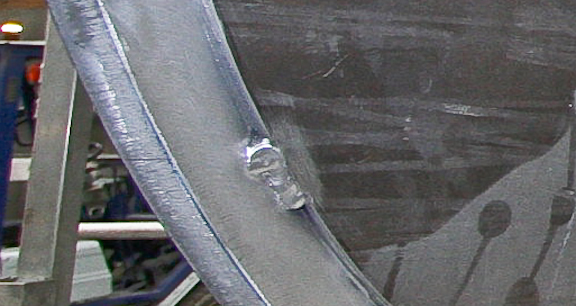 "Having a boat that can deal with whatever might happen—no matter what—provides a mental comfort level that defines their view of happy sailing."
–Bill Parlatore, Passagemaker Magazine
If you spend much time poking around with boats, eventually you are going to run aground, you will be hitting things, there will come a time when a rough commercial vessel drags anchor and bangs into your hull. The FPBs are designed for this life. They are tolerant of operator error. All of which leads to the peace of mind that gets you off the beaten path.
There are several common structural factors to all of these yachts:
Massive "stem bar" for collision resistance, as in the photo above
A collision bulkhead and at least two other fully watertight bulkheads
Hull framing and plating to twice the Lloyd's Special Service rule stiffness requirements
Bottom plating with a minimum thickness of 12mm/15/32in
Double bottom between forepeak and engine room watertight bulkheads
Massively strong windows (19mm /3/4in)
Designed for drying out
Fully protected props
Spade rudder(s) on shafts to twice the Lloyd's rule requirement
Over-sized stabilizer actuators
Stabilizer actuators in watertight coffer dams
Over-sized prop shafts
Prop skegs designed for grounding loads
Design & Systems Efficiency Leads to Cruising Freedom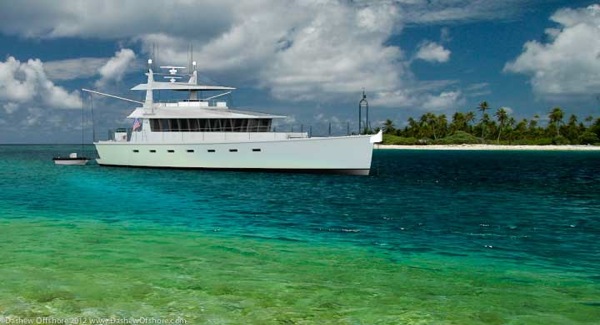 If you want to cruise to distant ports with complex, modern yachts, you are faced with a dilemma. Systems complexity, fuel burn, high maintenance demands, and crew requirements limit freedom of movement. This turns life afloat into a compromise between the owners' cruising dreams, what the crew wants, and where service technicians can be found. With the FPB 97, owners have the option of going with or without crew. Combine this with enormous tankage, systems that allow you to be totally free of fossil fuel consumption at anchor, and huge storage capacity, and suddenly you have the ability to sustain yourself for long periods of time away from civilization.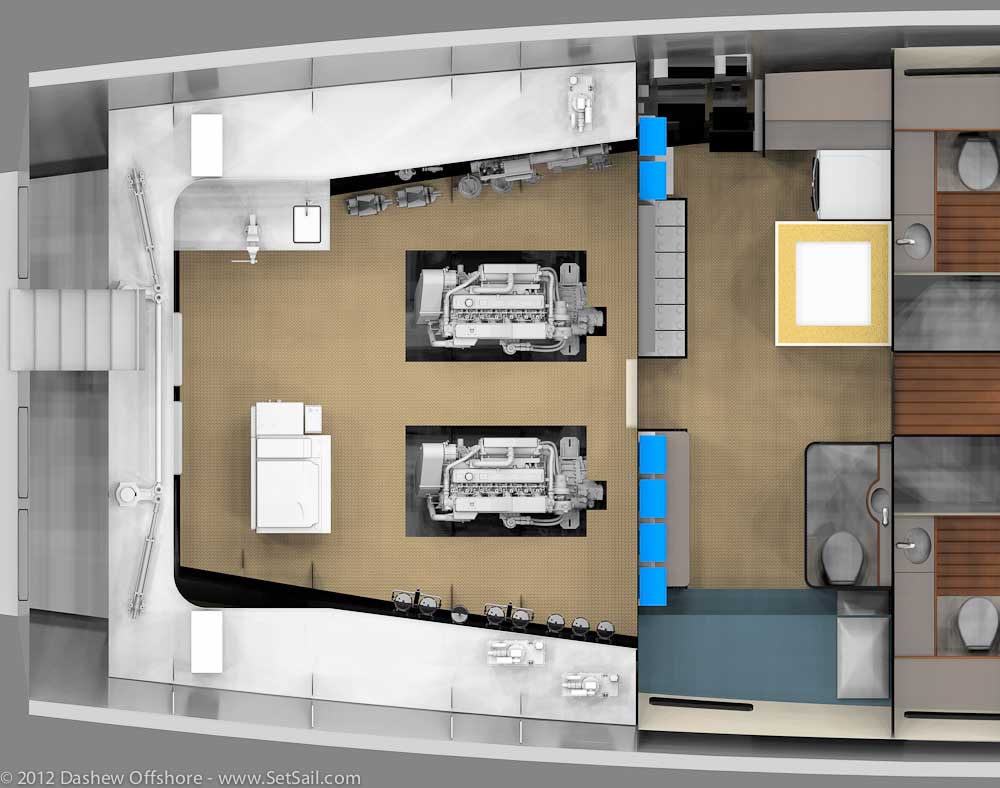 Simple, reliable systems with backups in place, an extensive list of spare parts and tools, plus a detailed vessel operations manual, and access to all critical systems for periodic inspection and maintenance, mean more time spent cruising, and the ability to deal with problems when they do occur. Add in a sub-5ft/1.5m draft, the toughest hull construction ever offered in a series-built yacht, a double bottom and four watertight bulkheads, plus a tough, unpainted aluminum exterior, and the FPB 97 owners have the ability to cruise where they want, when they want, and with whom they want. It is an enticing formula.
Cruising on the FPB 97: Do You Really Need Crew?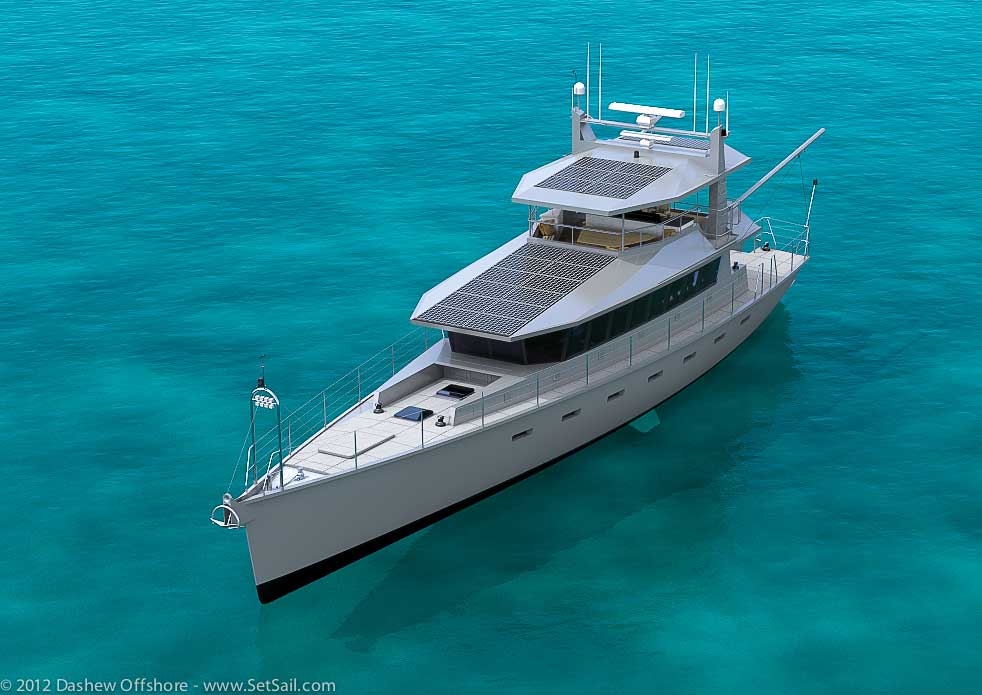 From the beginning of the design cycle of the FPB 97, operation by a couple without crew has been a primary goal. And if crew is carried, that it need not be for more than help with watch standing, cleaning, and keeping an eye on things when the owners are not on board.
"Impossible," you might be thinking. But we can tell you from long personal experience, and observing our clients, that running the FPB 97 as a couple is a realistic goal. From dinghy launching and retrieval to standing watch on passage, to keeping systems operating, this Wicked FPB 97 will be easier to operate and less work to maintain than most smaller trawlers.
Take the windows, for example. There are a lot of them. But with their vertical position and smooth exterior it will be quicker to wash and squeegee these windows than those of the FPB 64.
For operating in close quarters the most important issue is visibility, so that the helmsperson can see the ends of the boat, the dock alongside, and judge distance to other vessels. The excellent natural sight lines of the FPB 97, coupled with the docking platforms, allows the helmsperson to judge distances for him or herself, without the necessity of a crew member calling these distances.
The six self-tailing electric winches simplify difficult docking situations, such as stern-to moorings.
And even if you want to have crew aboard, the FPB 97 makes their job easier, reduces the number required to a couple at the most, or more normally a single person. And it gives you the option of running by yourself should that become more pleasant.
"This would have to be the most intriguing offshore cruising powerboat I have come across. Conceptually, Steve Dashew has possibly developed a new paradigm for offshore cruising…"
–Sea Spray Magazine
Part One of a foundation to successful cruising.
Part Two of a foundation to successful cruising.
To read all posts about the FPB 97, click here.
A Foundation for Successful Cruising
If you want to have the most positive cruising experience, one which gives you the incentive to cut those dock lines, there needs to be a clear set of priorities for how the boat is going to be used. These range from cruising grounds, to space allocation for long-term stores, the way systems are engineered, draft, structure, interior layout, crew size, even the appearance you project to the outside world are considerations. The FPB series are engineered and constructed for long distance voyaging in less-than-sublime environments, with maximum attention to mitigating risk factors.
The resulting yachts are extremely efficient, exceptionally comfortable, and without peer at sea, particularly in heavy weather. But we want to be up front, and tell you that these yachts are not for everybody.
On the other hand, if the concept of spending a day provisioning, updating your charts, and then heading off across the ocean without crew if the fancy strikes sounds appealing, then the Wicked FPB 97 is for you. If you want to be able to spend weeks at a time at anchor in some lovely tropical lagoon without running a generator, the FPB 97 is the answer. If you want the flexibility of moving quickly from the tropics to the splendor of Greenland, Svalbard or the South Georgia islands, there's only one the FPB 97 is the ultimate tool. If you want to feel at home with the commercial vessels, give pause to the bad guys, and stand out from the rows of yachts in the marinas of the world, then this Wicked FPB 97 is your boat.
For even more answers, contact Todd Rickard, Sue Grant: Sue.Grant@Berthon.Co.UK.
The Wicked FPB 97 Business Model
The FPB 97 is being offered in the same highly efficient, turnkey basis that proved so successful with the FPB 64s. These Wicked FPBs come fully equipped: from electronics, to extensive tools and spares, to custom shorefast reels and high modulus line for tying up in difficult environments. The build standards, easily seen in the FPB 64s, and consistently maintained both at the visible and hidden levels, is at a level attained by only a select few custom yards. The cost to acquire a FPB 97, and the operating budget, are surprisingly modest.
For more information, contact Todd Rickard, Sue Grant: Sue.Grant@Berthon.Co.UK.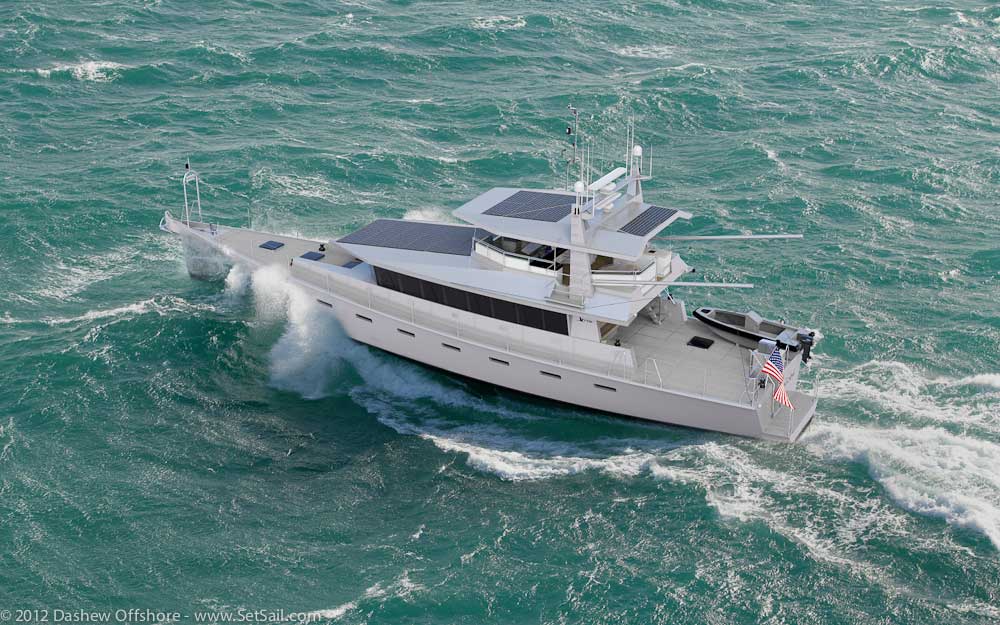 To read all posts about the Wicked FPB 97, click here.
If you would like to learn more about Dashew Offshore, the way we build yachts, and our history, see the links below.
Find Out More About Steve & Linda's Books