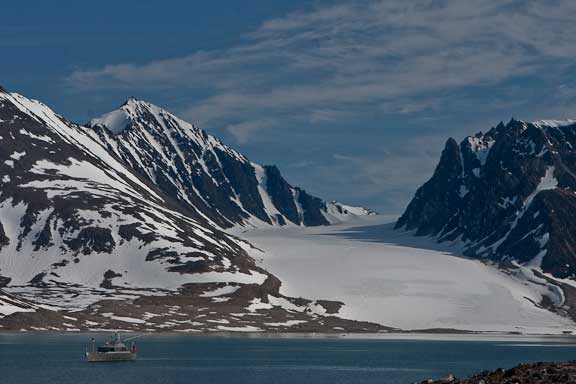 Magdalena Fjord is another magical anchorage. We are surrounded with glaciers, secure behind a sand spit from all but easterly (off the glacier) winds. Ice can be a problem, but we are fortunate in low densities right now. With perfect weather we decide to make this an official rest stop.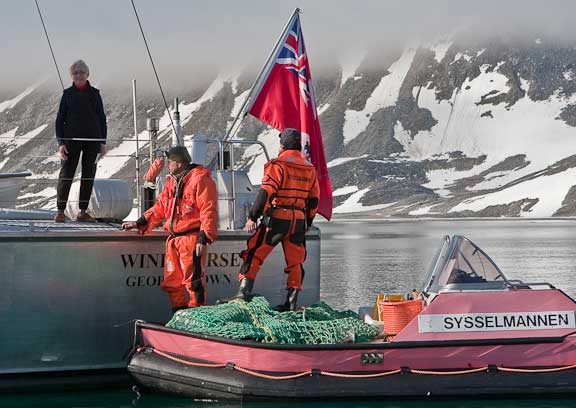 These two hardy gentlemen represent the Sysselman's office for two months each summer. Rolph is a hunting instructor during the rest of the year and Ole is a police officer in Bergan. They spend the summer at their isolated cabin. Rolph and Ole joined us for dinner, but declined our invitation for a hot shower having just bathed in a meltwater stream (32F/0C).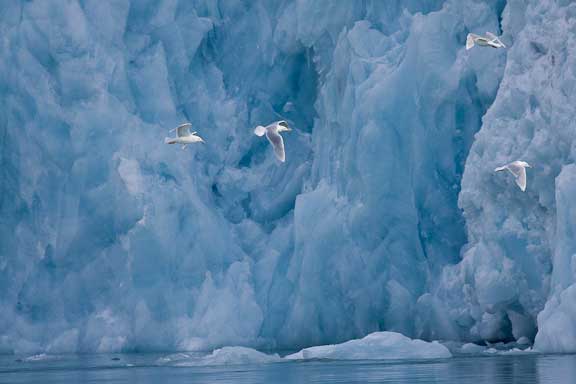 There are thousands of sea birds here. These gulls are feeding on fish at the glacier face.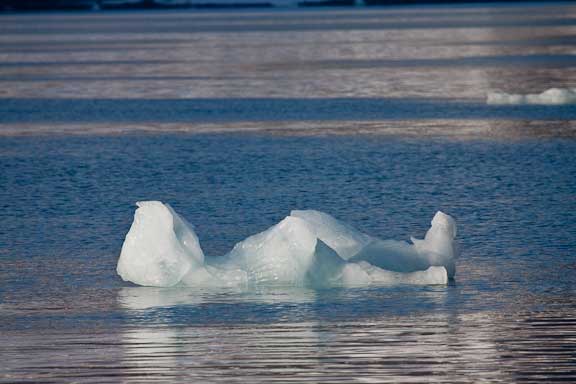 We've been on polar bear alert during our stay in Svalbard. Everyone here takes this very seriously. Ole carries a .457 Magnum pistol, 4mm flash bang flares, and on hikes, a 30-06 rifle. Polar bears are smart, carefully stalk their prey, and will even disguise their black noses with snow when hunting seals. We wondered if this was a polar bear disguised as a block of ice.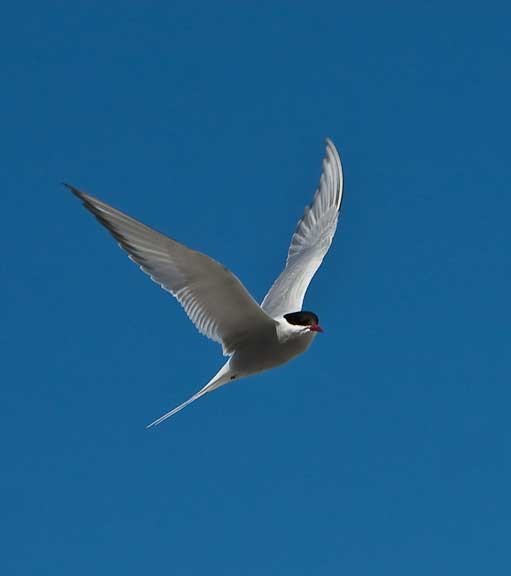 Arctic terns are amazing flyers. They travel from the Arctic summer south to the Antarctic for the southern hemisphere warm season. Watching them pilot themselves is a treat; in particular the way they pitch up, stop, and hover hummingbird-style.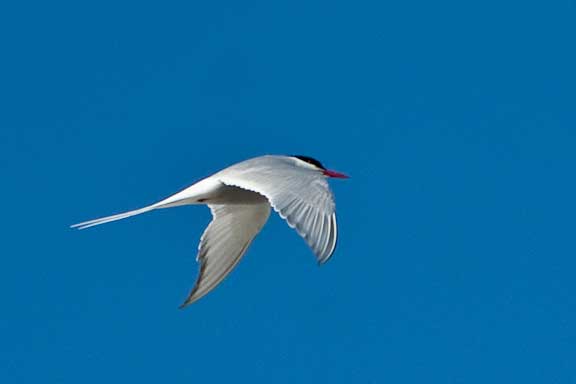 We probably shot 1000 frames trying to capture these shots, and got just two out of the entire batch.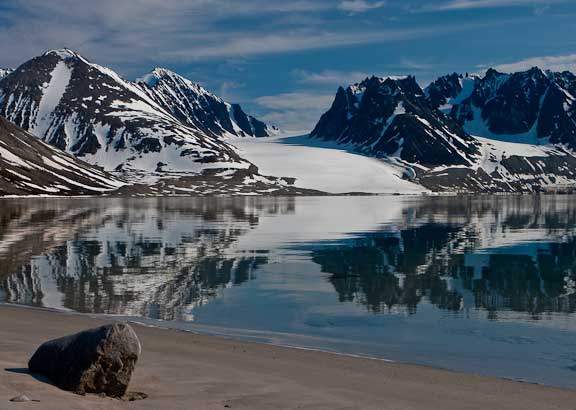 The beach is gently sloping sand, easy for dinghy landing, with a lack of cover for anything wanting to surprise us (think stalking polar bear) which is good. Actually they haven't seen a bear here all summer, but spotted one in the next fjord over. We did see a reindeer through the binoculars grazing on the mountains between glaciers and foxes looking for bird eggs.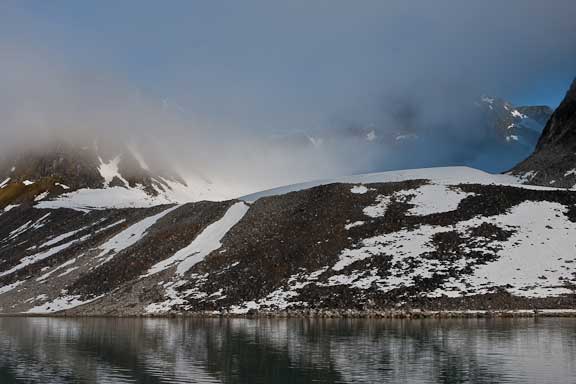 We'll close with series of photos taking during dinner with our two new friends from the Sysselman's office.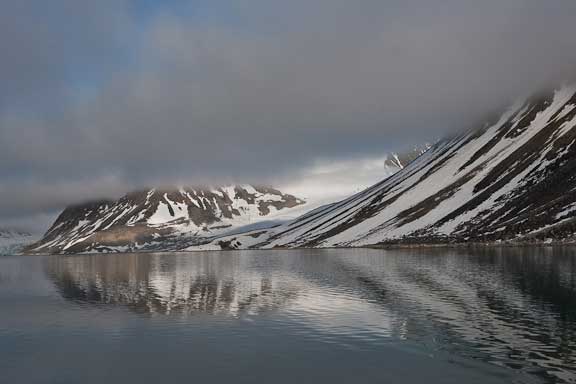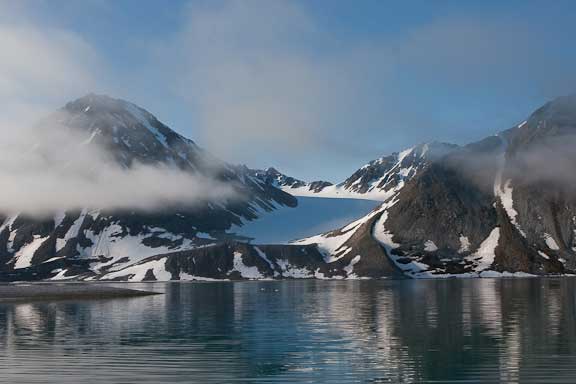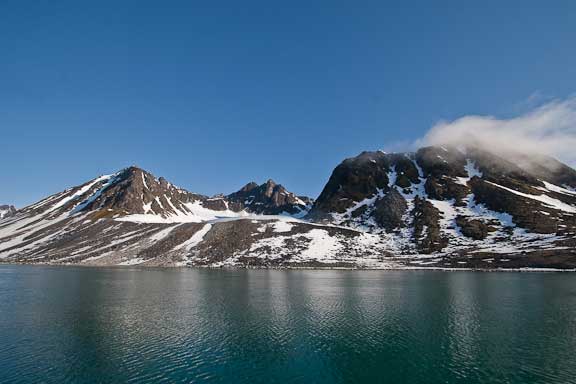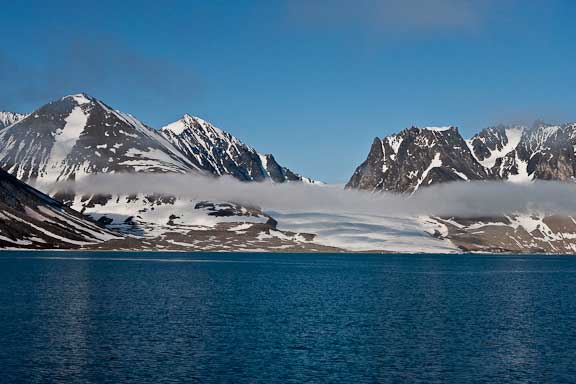 Posted by Steve Dashew (July 12, 2009)